---
Author
bariq
Date
Tue Feb 07, 2006 7:03 pm
Views 13091

Description
A comprehensive study by Wai kin aka Juggernaut

Category
Knowledge Base
Type
Articles
---
Rating 8/10, 2 vote(s)
[Rate Article]
---
Are leica lenses ready for digital era
Introduction



Last Year 2005, I bought an adaptor to mount Nikon lenses on my Olympus E1. The reason is because I have some old Nikkors (that's what Nikon name their lenses) lying around from the film days. This has provided me with some fun for a while, especially for time lapse photography & also to cover the focal length range which I don't own from the Olympus Zuiko Digitals (too expensive).

This year, it's a little different. I decided to try Leica lens on the E1. The difference being I don't own any Leica lenses. So what prompted me to do that? Well, the answer is simply curiosity.

Leica lenses had been very well known over the past decades for their optics quality, & I wanted to know how does one lesser model in the Leica R family holds in today's modern digital technology. Is Leica digitally ready with their old lenses? After all, Leica does have a Digital Modul R (DMR) digital back to fit onto their R8 & R9 Single Lens Reflex (SLR) film bodies. Another digital back is touted to be coming soon that's meant for their rangefinder film cameras, so their existing range of lenses will have to bear the weight of being "digitally ready".

So how well does an old lens design specifically for film, work with new digital sensors, since Olympus has been emphasizing on the importance of having specially designed digital lenses? Before I dwell deeper into it, lets have a quick & brief look at the history of Leica.




Brief history of Leica



Leica started the 35mm film format many years ago. It was a struggle back then since proper photography always referred to large format & medium format. The new 35mm was sneered at as a toy, "it will never kick off" some said. However, it became popular despite all odds & it's now a common film format known to us.

Before Leica ventured into photographic business, they were famous for their high precision optics & mechanical equipment, mainly microscopes for medical use. If memory serves me well, the company was started in 1850 by Ernst Leitz of Wetzlar, Germany.

Not surprising, many older optical instruments bore the name Leitz Wetzlar instead of the more popular, Leica.

In 2004, Leica launched a book "50 years of M" to celebrate the 50th anniversary of its rangefinder cameras. If you are interested to know more about their M series of rangefinders, get yourself a copy before they are gone.

Ok, with this brief history out of the way, lets get started into the fun bits.




Which Leica lens is being tested?



First & foremost, I am not someone who does photography as a living, but hopefully someday I could. The test you are about to see is mainly field test, nothing technical because I don't have access to any equipment & charts to carry out the analysis.

What I have in my hands is an Elmarit-R 90mm F2.8 3-CAM lens. I bought it at ebay for US$250, after courier charges & currency conversion, its less than S$500. Quite a steal for owning a piece of legend I must say. And yes, my copy of this lens is labelled as Leitz Wetzlar & it was manufactured in the late 60s.

For those who doesn't know what does CAM & ROM means in Leica products, click here: http://www.photoethnography.com/ClassicCameras/index-frameset.html?Lens-R.html~mainFrame for further reading.

There's also another 90mm but it's a Summicron F2.0 version. From the maximum aperture size, you can guess its going to be expensive. How does the Summicron differ from the Elmarit in terms of optical quality? I will only know if I have one for testing.

Below is some technical details taken from www.photodo.com so please click onto photodo website for more lenses information.



LeicaR Elmarit-R 90/2,8 (discontinued)


Lens mount: Leica R
Diameter: mm
Length: mm
Weight: 475 g

Filter mount: E55
Lenses/Groups: /
Diaphragm blades:
Max Aperture: 2,8
Min Aperture:
Close Focus: 0,7 m
Misc: MF, Single
Comments:




Photodo test result: 4,6


Effective focal length: 90
Weighted MTF for 90 mm: f2,8 0,81, f4 0,86, f8 0,86
Average Weighted MTF: 0,86 Grade: 4,6
Weighted MTF 10 lp/mm: 0,92
Weighted MTF 20 lp/mm: 0,84
Weighted MTF 40 lp/mm: 0,66
Distortion: % - %




By looking at the MTF charts, its pretty good. The lens comes with a built-in lens hood & I find it very convenient after using it for about 2 weeks. Now I wonder why don't lens makers include a built-in hood in all their lenses. The consumers are always paying for the extra cost so I really don't see any reason why not.

There's also a Leitz UV filter that came with the lens & its not your usual screw in type. The UV filter (unthreaded) sits on a filter holder with screw threads & then the whole unit is screwed tight onto the lens.

The build quality is simply excellent. Full metal jacket as I would put it, except for the hood, which is some kind of plastic or rubber. The focus ring is very smooth & the aperture blades have no oil leak or jam. I was very lucky to get hold of such an excellent copy from ebay. Some people tried their luck at ebay but they got some problematic lenses instead, so deal at your own risk.

My copy is in perfect condition except for some cosmetic wear & tear. This is to be expected from such an old lens, but as long as the glass & aperture blades are clean, I am not complaining. By the way, this baby is a 6-blade design. Thought I'll just highlight it here since this information is absent from the technical specifications from photodo.




What does it mean?



By looking at the MTF charts, one can only determine the sharpness of the lens. Apart from that it doesn't really tell you much about how the lens perform in other areas such as distortion, colour, chroma aberration, ghosting, etc. In case you are not familiar with MTF charts, do click onto www.photodo.com for a brief explanation or search the web for other more detailed explainations in this topic.




How do I look?



How does the Leica lens fit onto the E1? I have taken a few pictures showing the E1 with the lens mounted via an adaptor. The adaptor was bought in Japan through a friend & cost about S$270. It's the same Kindai brand as my other Nikon adaptor. You may find the price a little on the high side but after using the Nikon adaptor, I am convinced of its quality. You may find some made in China adaptors cheaper but I cannot attest to their precision & material quality. There are people who complained about having light leaks while others find their copy ok. So I guess its more of a luck thing with the cheaper deals, again this is at your own risk.

Due to the lack of another digicam, I have used my handphone to take the pictures instead so, please forgive the very crappy stills.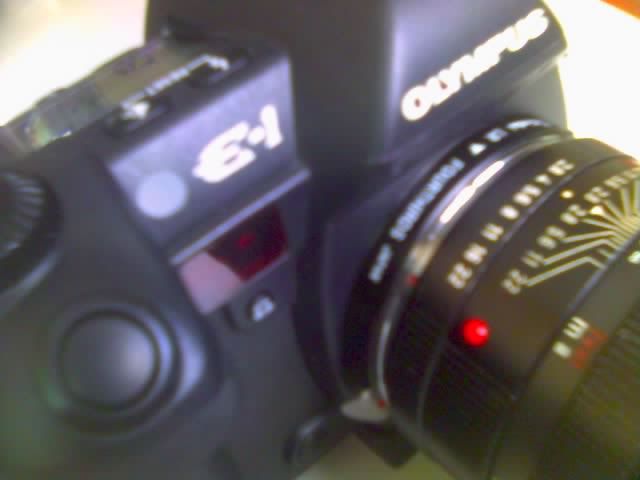 The pictures showed the lens with its hood retracted in the first picture. Very slick & not obstructive at all when in action.




The gospel of truth…



Finally after so many written words, the much awaited samples from the lens. My intention is to do a more rounded test so there will be some close ups, people & animals as subjects.

Being a manual lens, it can only be focus manually & the aperture adjusted via the aperture ring. The beautiful thing about the E1, E300 & E500 is that (as of writing, I have no access to the new E330 so I reserve my comment on this new model), they all allow metering in aperture priority mode ('A' on the DSLR dial) & manual mode ('M' on the DSLR dial). Program mode ('P') & shutter priority mode ('S') don't support manual functions I'm afraid, but I reckon the M & A modes should be sufficient for normal daily shoot & lots of fun.

The first test is just some general shots with products. They are shot at the lens shortest focusing distance, which is about 67cm (except for the flower).

Shot at F2.8, 1/80th second with fill flash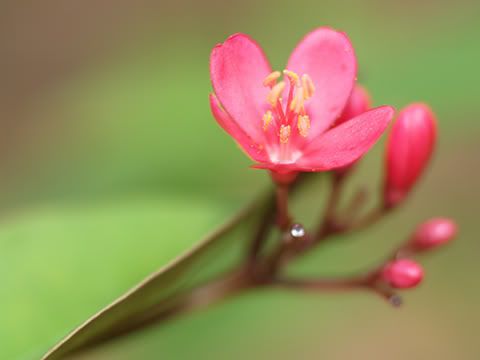 shot at F2.8, 1/8th of a second



shot at F2.8, 1 second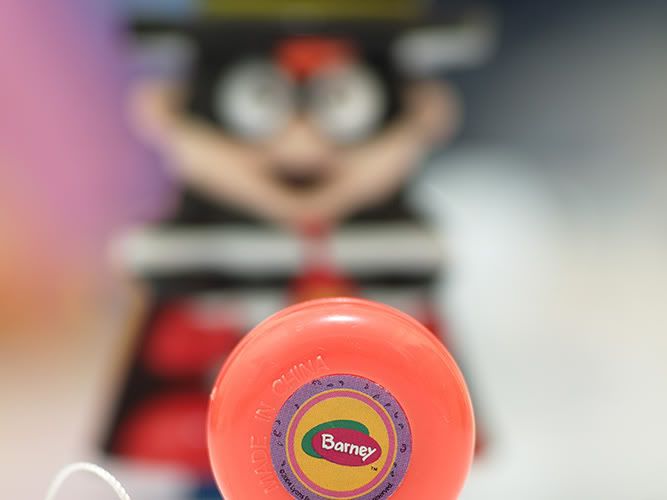 What am I trying to show here? I want to show 2 things:

1) The bokeh of this lens. You can see how nicely the background has been blurred out.

2) The sharpness of the lens.

So where is the sharpness test? Its not your usual charts with lines this time round, but it's a 100% cropped of the above image. There's no sharpening applied, all pictures are processed with Olympus Studio software trial version.





Can you see the tiny word "TM" & the printed texture? Pretty amazing considering that these pictures were shot at maximum F2.8 isn't it?

However, there's one thing I noticed when I used the Leica lens at F2.8 versus my Nikkors. The Leica didn't show any glare at maximum aperture, whereas the 3 Nikkors I have showed huge amount of glare at their maximum aperture (F2.8, F3.5 & F4). The only solution to the Nikkors is to step down the aperture by 1 stop. I have similar experience with the older OM lenses too mainly the OM 135mm, OM 50mm & the OM 90mm macro lenses. They all need to be stepped down by 1 stop to get rid of the glare.

I have no answer as to why this phenomenon occurs to Nikkors & OM lenses but not on the Leica. My only guess is either the multi layer coatings on the Leica lens elements are able to keep the glare away or the fewer glass elements inside this 90mm construction design (I read somewhere that it has 4 elements 3 groups only, not sure if I remember it correctly). If anyone has the answer, please drop me a mail so that I can update this article.

Perhaps if someone were kind enough to lend me a few Leica lenses so that I am able to verify if they can really handle the glare that well across the range? Maybe a 180mm & a 35 – 70mm zoom?




Not so close & personal…



Alright, now that we know this lens handles well at its closest focusing distance & looks good even at maximum F2.8 aperture. What about common subjects, which we don't get to be too close? Search no more, the answer is right here with these pictures.

A strange bird that looks like some kind of duck, which I don't know its identity, in the Singapore Botanical Gardens. Well, I am no bird expert to begin with so let just stick to purely lens evaluation shall we?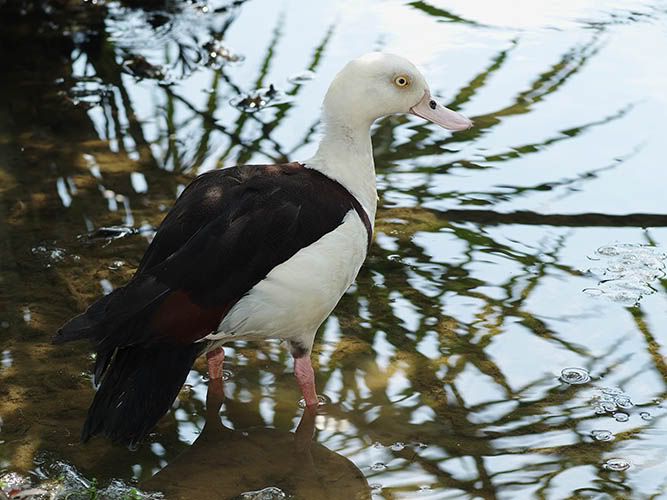 Here is a 100% crop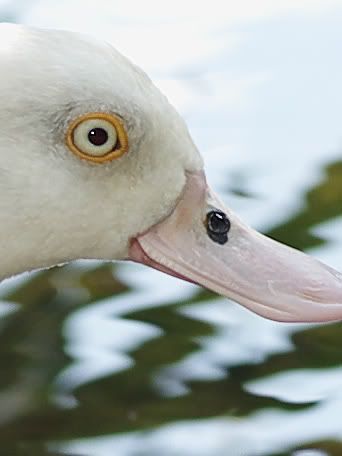 As you can see, once the focus is accurate, the lens is very beautiful. The "duck" is taken at F4.5 with fill flash 1/125th second.

A few more normal subject distance for your viewing pleasure.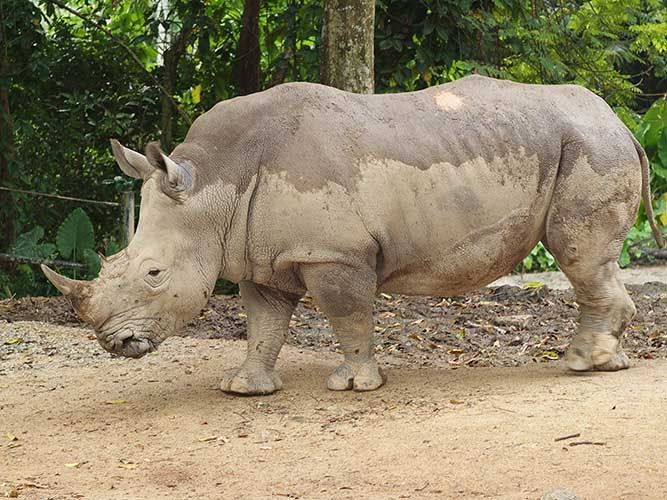 100% cropped of the above image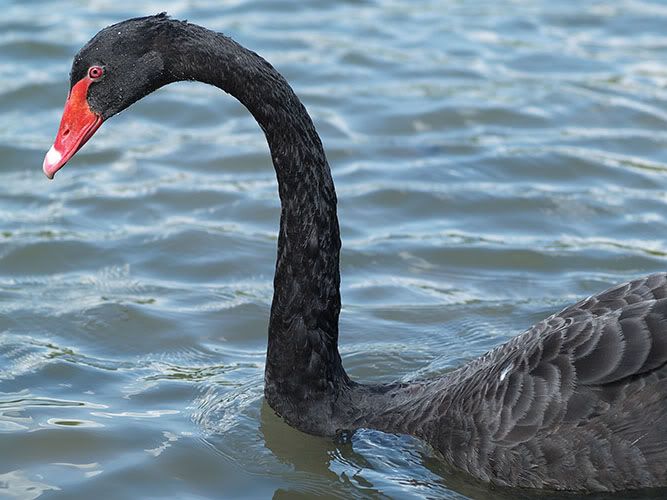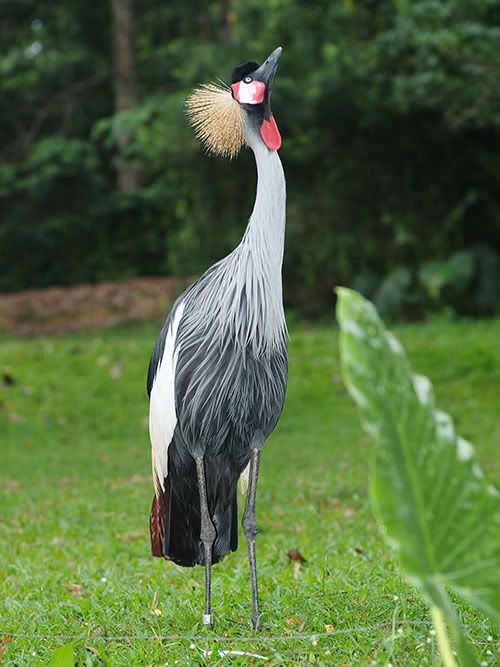 In the world of macro…



Now that we have gone through the common uses for the lens, wouldn't it be more interesting to see if it can be doubled up as a mini macro lens?

I borrowed the Olympus EX-25 extension tube from Chii, our fellow Mytikas member here. This extension tube has given me the opportunity to explore & exploit the lens further. Definitely I would like to thank him for his generosity, for without his contribution, this evaluation would not be as interesting.

First thing first, a few images on how the extension tube looked like when mounted onto the E1 camera.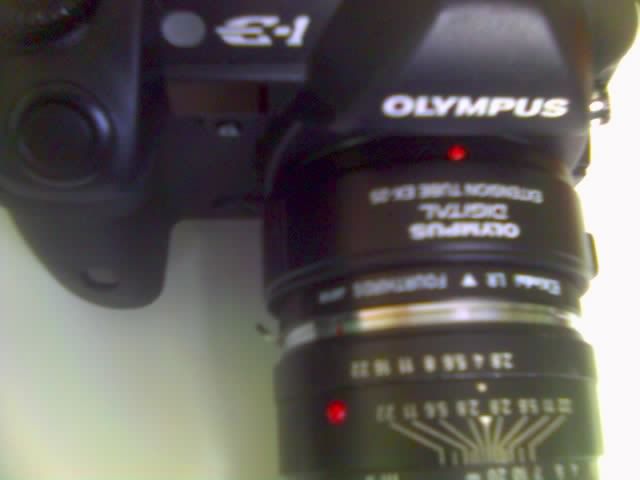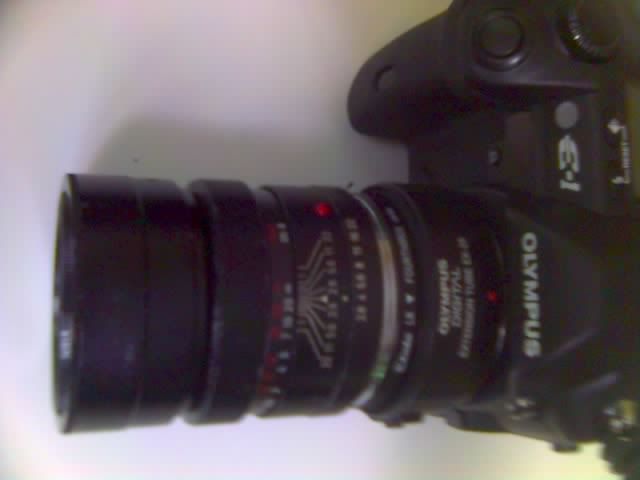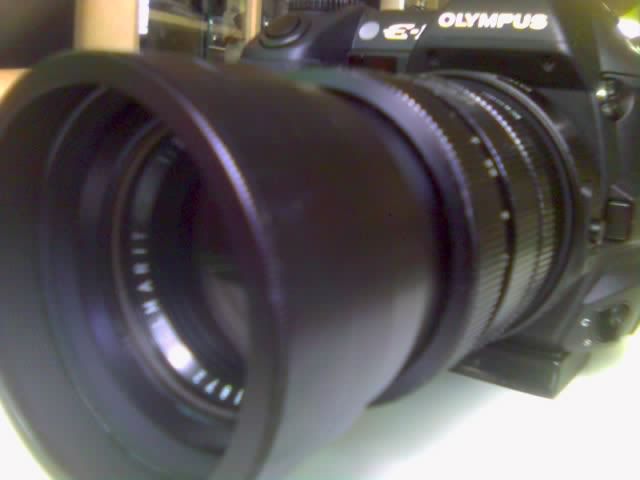 Once again, I apologise for such lousy image quality from my mobile. As you can see, it fitted pretty well. Also noticed how the lens hood has been extended in the last image?

First, the closeup of a stigma form a Hibiscus flower at F2.8, its really fascinating.




Again at 100% cropped, so you can see how well it resolves minute details.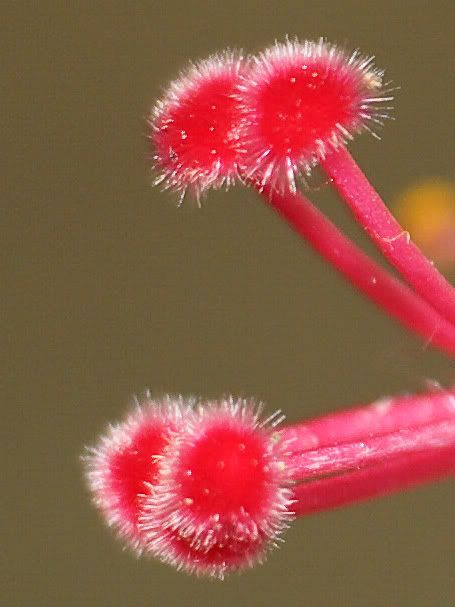 Just a few more close-ups to see how it handles minute details.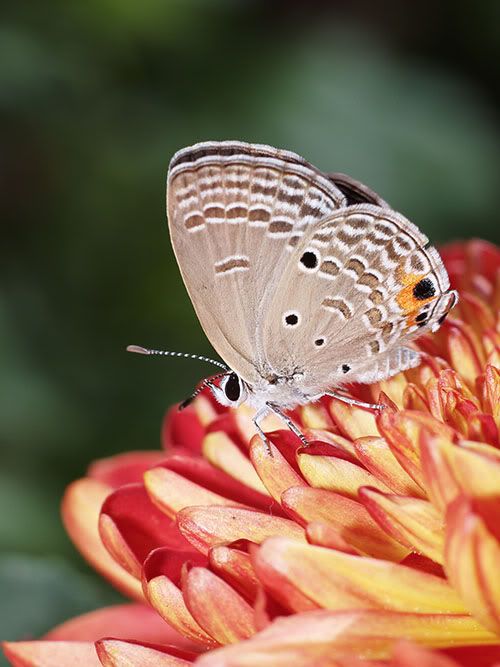 100% cropped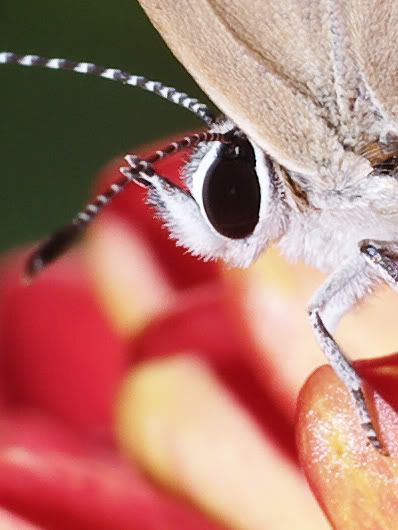 An image of a flower



100% cropped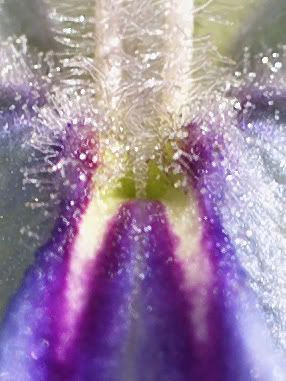 After heavy scrutinizing, I felt that a dedicated macro lens could do the macro work better. There's more refine details found in both the OM 90mm macro lens & the Nikkor 55mm AIS micro lens. This is of course not a fair statement to the Leica since the Elmarit-R 90mm is not a macro lens, so I really shouldn't expect it to out-resolve a dedicated macro lens. It would be a huge blessing if someone were to lend me a Leica 100mm macro lens to further compare the macro lenses by themselves, they really deserve a separate evaluation.




Astigmatism in a Leica



It's the Leica way of describing Chroma Aberration (CA). I read a book dedicated to Leica lens manufacturing & it stated that Leica has very stringent tests for astigmatism in lenses. In the older times where manual labour production dominated, a particular lens was mixed & matched by hand based on the properties of one group with respect to the next group. The error from the 1st group was then compensated for by the next group to reduce astigmatism. Very tedious process but quality was kept to the highest. Needless to say, the more elements & groups a lens has, the more tedious & expensive its going to be. This also explains why Leica is so expensive today, it's a "tradition" passed down.

Such labour intensive tasks had since been revolutionised by machines & automation processes. Not that the machines are used to mix & match the groups in modern days now, but the precision & quality they produce have eliminated the need for such matching practice.

Back to the test, in order to check for CA, I took a simple shot of a rain tree against the blue sky with some clouds. The shot was taken at F5.6 in order to maintain a deeper depth of field (DOF) so that the leaves & branches are sharp enough to yield a more accurate finding.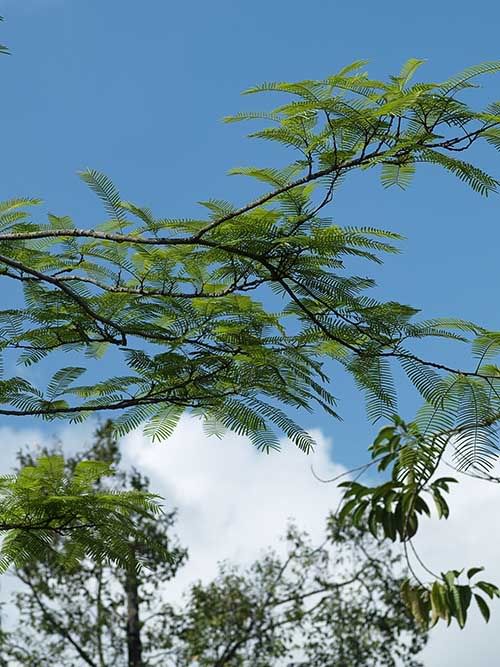 Below are 2 100% cropped of the image at different parts to better evaluate CA.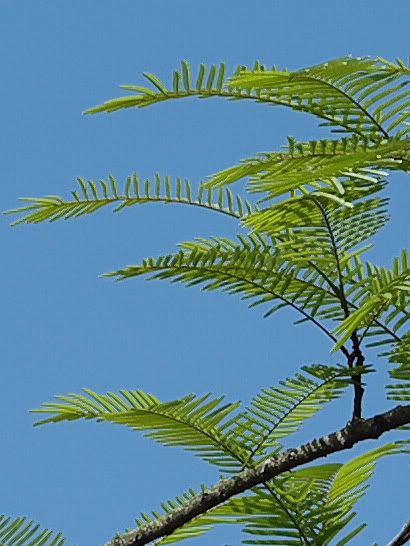 Surprisingly, I couldn't find any CA on any of the leaves or branches. On the other hand, I can see some definition of the very fine leaves. This is really a shocking revelation to me because firstly, Olympus has been stressing the importance & need for telecentricity in digital lenses. Secondly, the Elmarit-R 90mm is a very old lens dated back to the late 60s. So how can I explain this? A few thoughts came to my mind.

It could be that Leica lens design is really that good & the quality that holds their reputation in the film era for decades is also going to carry them into the digital era.

Or the existing modern lenses are still not good enough campared to this old champ. It could even be that Olympus is only hyping about digitally specific lenses & try to make themselves look good among the competitors.

I cannot conclude anything yet but from the look of it, other manufacturers are also producing digitally specific lenses, I guess there's got to be some truth in the puddle.




Portraits anyone?



The Elmarit-R 90mm being fitted with this focal length for film, is definitely great for portraiture photography. How does it look on people? Sad to say I don't own a studio with proper lightings, so the next best thing is to make do with what I can shoot in the open.

After playing with this lens for a while, I came to understand why professionals don't like their portraiture lens too sharp & revealing. There's some reservation in details on the subjects & yet its still sharp enough to make them look good. Its hard for me to explain, but its kind of like a dilemma for a lens, & I am beginning to see where the strength of this lens lies.

Take a look at this snap shot.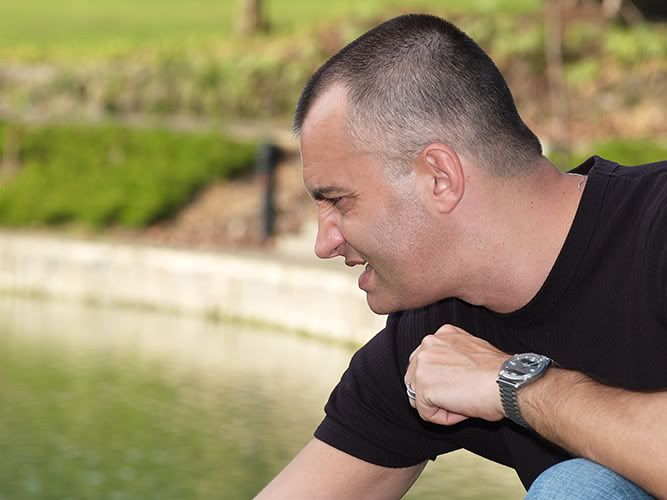 The 100% cropped version, take note of the facial details.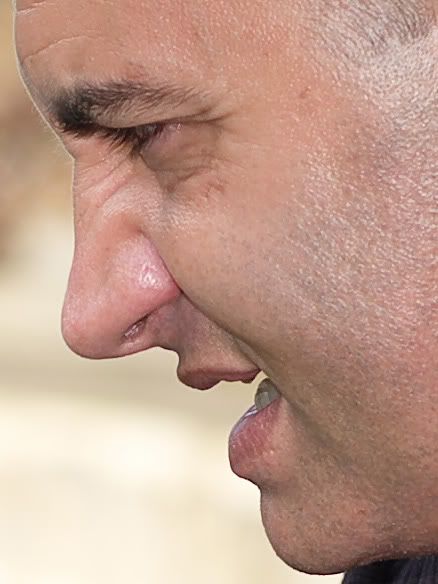 Here's one from my family.



Notice besides the sharpness & details, the skintone is also very pleasing but yet other colours remain as strong? There's a tranquil feel to the skintone that I can't express in words, simply pleasing.

It would be great if I have some form of colour charts to compare the different lenses colour bias. In the mean time, I can only use my eyes to feel the difference. By the way, all the samples you see here were shot using factory default colour profile in the E1, no colour tweaking was done.




Final curtain



After such a long & exhausted read, I hope you find the evaluation useful. I tried to my best of knowledge to make this article interesting, accurate & comprehensible to everyone.

This is a lens I definitely want to keep & also expand with. A very beautiful piece of glass indeed & the more I use it, the more I like it.

Do I recommend using 3rd party lenses on the Olympus E system? That really depends on your appetite for fun. If you are those who rely heavily on auto focus & automatic functions of the camera, this option is not for you. However if you are like me who came from the semi-manual film days, this is the ticket to a whole lot of fun. The E system is very flexible in this area & I hope Olympus can maintain this "loop hole" for future digital SLR models to come.

Now if only Olympus can produce a split screen finder to aid manual focusing for the E1 & future pro bodies, it would be heaven sent for all the manual junkies…


-Written by Kan Wai Kin aka Juggernaut
7 February 2006
User comments
bariq
You have posted in this forum: Mon Feb 06, 2006 7:50 pm

Post subject
---
Thanks Juggernaut for this indepth article.
chancy
You have posted in this forum: Tue Feb 07, 2006 1:06 am

Post subject Re: [ KB ] Are leica lenses ready for digital era
---
Hi Juggernaut,

This is indeed a well presented, comprehensive body of work. Your bait of a teaser sure leads to a big mousetrap :-)

Your points do reinforce my view that lenses of the past while not buzzword compliant are real marvels of craftsmanship and that image quality should not be solely determined by MTF curves.

Which brings me to the point that the new LiveView technology married to the wealth of old world MF SLR lenses via adaptors will open a new world of usability which hampers the existing E-system bodies for MF use due to the smaller image optical viewfinders.

You have also shown CA as an image deg